Functional Verification
Riviera-PRO™ addresses verification needs of engineers crafting tomorrow's cutting-edge FPGA and SoC devices. Riviera-PRO enables the ultimate testbench productivity, reusability, and automation by combining the high-performance simulation engine, advanced debugging capabilities at different levels of abstraction, and support for the latest Language and Verification Library Standards.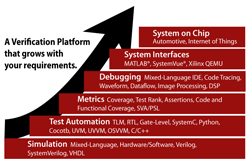 Top Features and Benefits
High Performance Simulation
Extensive simulation optimization algorithms to achieve the highest performance in VHDL, Verilog/SystemVerilog, SystemC, and mixed-language simulations
The industry-leading capacity and simulation performance enable high regression throughput for developing the most complex systems
Support for the latest Verification Libraries, including Universal Verification Methodology (UVM)
Support for VHDL verification libraries, including OSVVM and UVVM.
Advanced Debugging
Integrated multi-language debug environment enables automating time-consuming design analysis tasks and fixing bugs quickly
UVM Toolbox, UVM graph, Class Viewer, Transaction streams and data to allow visual mapping and debugging of designs based on OVM/UVM class libraries
Built-in debugging tools provide code tracing, waveform, dataflow, FSM window, coverage, assertion, and memory visualization capabilities
Comprehensive Assertion-Based Verification (SVA and PSL) for increased design observability and decreased debug time
Advanced Code and Functional Coverage capabilities and Coverage analysis tools for fast metric-based verification closure
Efficient verification flow with user-defined test plan linking with coverage database
Plot viewer and Image viewer tools for visual representation of large arrays of data.
Industry's Best ROI
Riviera-PRO enables Aldec customers to deliver innovative products at a lower cost in shorter time
Features partnerships and integrations necessary to build complete design and verification flows
Deployment of any Aldec solution is accompanied by comprehensive training and support
---
Aldec, Inc.
Corporate Headquarters
2260 Corporate Circle
Henderson, NV 89074 USA
Tel: +1 702 990 4400
Fax: +1 702 990 4414
https://www.aldec.com
©2022 Aldec, Inc.

---
Printed version of site: support.aldec.com/en/products/functional_verification/riviera-pro