Documentation HTML/PDF
A built-in documentation tool inside Active-HDL allows you to create a textual and graphical representation of your workspace or design in HTML or PDF. All design elements such as design files, waveforms, block diagrams and attached documents can be exported to HTML or PDF documents.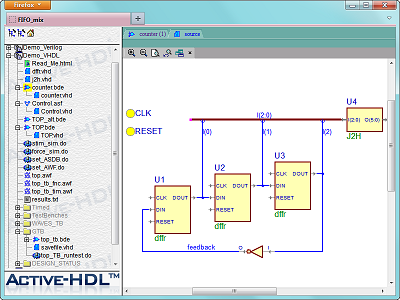 Benefits of using Documentation:
It is extremely helpful for the processes such as design reviews, reuse and archiving
The resulting documents always preserve the hierarchy of the design which provides easy navigation in complex designs
Vector graphics images capability maintains the high resolution of schematic files in the generated document which makes it easy to read or print
HTML format is supported in any web browser and this way, designs/workspaces and their documentation, may be shared among users who would like to analyze them without accessing Active-HDL
HTML projects may be published in a local intranet network or Internet
---
Aldec, Inc.
Corporate Headquarters
2260 Corporate Circle
Henderson, NV 89074 USA
Tel: +1 702 990 4400
Fax: +1 702 990 4414
https://www.aldec.com
©2021 Aldec, Inc.

---
Printed version of site: support.aldec.com/en/solutions/fpga_design/documentation--html-documentation-pdf