Computer Vision
Computer vision requiring image processing algorithms is one of the most dynamically improving application that benefits from FPGA processing power. Detecting moving objects is useful in monitoring, surveillance systems as well as in various industrial cases during automated production.
We have created a demo design that shows how FPGA can be used to accelerate image processing algorithms which process a big amount of input data and deal with high input and output bandwidths. The demo design provides RTL implementation of motion detection algorithm called ViBe and use case of detecting moving objects in a video data stream. The example also demonstrates that algorithm execution can be further accelerated by replicating the ViBe function kernel and running video processing in parallel threads utilizing efficiently resources of large FPGA, Xilinx Virtex UltraScale XCUS440. It also demonstrates how to connect an algorithm kernel running in FPGA with PC Host Workstation through Aldec HES Proto-AXI interface or access on-board DDR.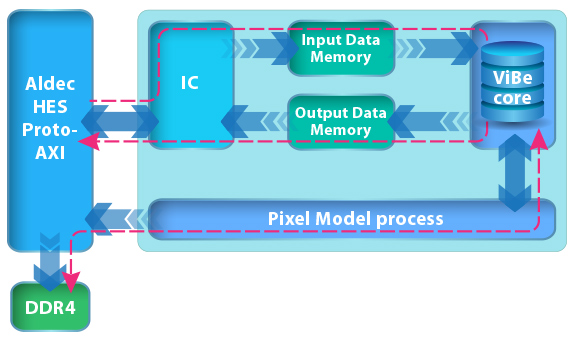 Main Features
Function: Detecting moving objects in video data stream
Algorithm: Vibe Motion Detection
Processing live data stream from USB camera connected to host
Video resolution: Full-HD, 1920x1080
Number of replicated algorithm kernels: 4
Processing speed: 120 frames per second
Solution Contents
Accelerator board: HES-US-440
Host workstation interface: HES Proto-AXI
HES utilities software: HES.Asic.Proto with PCie driver and software API
RTL code of ViBe algorithm
C++ code of the main program running on PC Host Workstation
Platform documentation
---
Aldec, Inc.
Corporate Headquarters
2260 Corporate Circle
Henderson, NV 89074 USA
Tel: +1 702 990 4400
Fax: +1 702 990 4414
https://www.aldec.com
©2022 Aldec, Inc.

---
Printed version of site: support.aldec.com/en/solutions/hpc/computer_vision--computer-vision-fpga