High Frequency Trading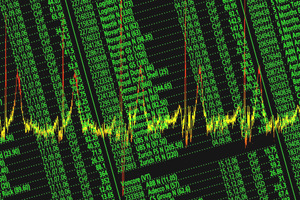 The popularity and value of FPGAs for High Frequency Trading (HFT) systems have increased over the last five years - and the primary reason is latency. HFT firms must utilize the latest technologies in order to achieve close-to-zero latency to remain competitive - whoever has the fastest system wins.
FPGAs consists of millions of logic gates that can process data in parallel as opposed to software that execute data sequentially. Thus, FPGAs can provide deep sub-microsecond latency compared to several microseconds via software. FPGAs includes thousands of DSP blocks that can execute mathematical computations in parallel, and FPGAs are also re-programmable enabling flexible systems that can be optimized even in the field.
With Aldec's 30+expertise in FPGA/ASIC prototyping and acceleration, we provide FPGA accelerators with PCIe and QSFP interfaces and compatible with 1U (or larger) trading systems for time-sensitive trading strategies such as Market Making, Statistical Arbitrage and Algorithmic Trading.
Achieving Low Latency
Low latency which is the paramount requirement was achieved by using the newest generation Xilinx FPGA – Virtex™ UltraScale+ and connecting all critical interfaces like Ethernet/QSFP and PCI Express directly to the FPGA. Market data feeds captured directly from the network interface (QSFP) are immediately processed inside FPGA fabric that can accommodate hundreds of parallel processors specialized for a given task. Second QSFP link can be used to trigger buy, sell or cancel orders based on the results of algorithm running entirely in FPGA. Alternatively, pre-processed data can be moved to the host workstation via PCIe interface for analysis in existing software. The pipelining features of FPGA allow for all the interfaces to operate in parallel.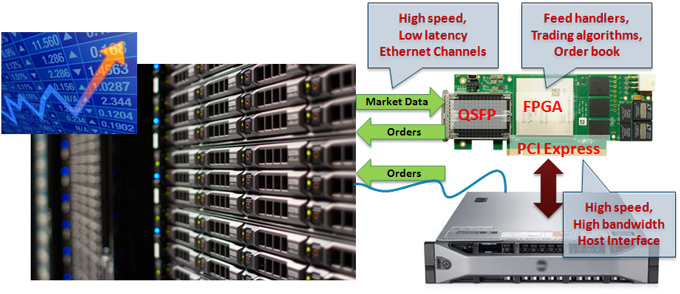 Re-configuration on-the-fly
The FPGA can be re-configured on-the-fly without need of shutting down the entire system which greatly increases the flexibility of such configuration and facilitates quick reaction on dynamically changing trading conditions. The new FPGA accelerators are compatible with 1U and larger trading systems for time-sensitive trading strategies.
Develop and debug FPGA designs
Customers looking for a complete FPGA development eco-system will benefit from cooperation with Aldec with its FPGA accelerator boards and RTL development/simulation tools such as Riviera-PRO – a high performance mixed-language (VHDL/Verilog/SystemVerilog/SystemC) simulator with Python testbench support for FPGAs.
Integrate with IP partners providing IP-cores critical for implementing market data feed handlers and other blocks of the trading system.
Main Features
Fast processing in newest Xilinx UltraScale+ FPGA
Higher level speed-grade (-2) of used FPGA
Low latency interfaces QSFP28
High bandwidth host interface PCI Express 16x, gen3
Fast QDR-II memories
Low profile boards (can be used in 1U rack servers)
Hot-reconfiguration (FPGA change without power down & PCIe link active)
Solution vendor with FPGA designing know-how
Solution Contents
FPGA board, low profile, PCIe, low latency interfaces, 1U-rack server supported
Riviera-PRO High-Performance Simulator for algorithm development in HDL
IP-partners for low latency ethernet
Reference and diagnostic designs with QSFP and PCIe interfaces and QDR-II memory controller
Integration advisory services
Partner Ecosystem
Tamba Networks
A developer of Low-Latency Intellectual Property (IP) Core solutions for ASICs, ASSPs, and FPGAs.

Cores are unmatched in the market for latency, gate count, power and flexibility
Extreme scalability and flexibility
Customizable synthesis for any speed/target technology: FPGA or ASIC, 28nM or 7nM ASIC node, the IP can be optimized to yield the best performing core for the target technology.
Tamba's Ultra Low Latency Ethernet MAC IP has been validated with Aldec's HES-XCVU9P-QDR FPGA board

Northwest Logic
Northwest Logic provides high-performance, silicon-proven, easy-to-use IP cores including high-performance PCI Express Solution Memory Interface Solution and MIPI Solution, These solutions support a full range of platforms including ASICs, Structured ASICs and FPGAs.

Endpoint, Root-Port, and Switch support
16 Gb/s, 8.0Gb/s, 5.0 Gb/s, 2.5 Gb/s line rate support
x16, x8, x4, x2, x1 PCI Express Lane support
Bifurcation support
High Reliability – AER, ECRC, ECC, and Parity support
Multi-Function and SR-IOV support with up to 256 total Functions
Flexible PIPE interface can support all PIPE compatible PHYs
High-performance DMA/bridging solutions support
Northwest Logic Expresso 3.0 Core For PCI Express x16 GEN3 with AXI DMA Back-End Core has been validated with Aldec's HES-XCVU9P-QDR FPGA board
---
Aldec, Inc.
Corporate Headquarters
2260 Corporate Circle
Henderson, NV 89074 USA
Tel: +1 702 990 4400
Fax: +1 702 990 4414
https://www.aldec.com
©2022 Aldec, Inc.

---
Printed version of site: support.aldec.com/en/solutions/hpc/high_frequency_trading