Aldec Customer Testimonials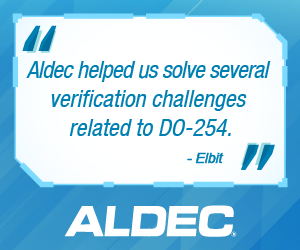 "EASA approved our verification process based on Aldec DO-254/CTS, accepted our test results, and the audit passed without any findings."
- Moshe Porian, Logic Design Verification Group Leader at Elbit Systems Aerospace Division
About Elbit
We are an international high technology company engaged in a wide range of programs throughout the world. We develop and supply a broad portfolio of airborne, land and naval systems and products for defense, homeland security and commercial applications. Our systems and products are installed on new platforms, and we also perform comprehensive platform modernization programs. In addition, we provide a range of support services.
Elbit Systems Ltd.
Advanced Technology Center
P.O.B 539, Haifa 3100401, Israel
www.elbitsystems.com
Aldec Tools:

DO-254
"Elbit's project consisted of multiple FPGAs from different types in which each FPGA consisted of multiple clock domains and high speed interfaces to PCI, ARINC and LVDS. Elbit verified FPGA pin-level requirements using DO-254/CTS custom boards and verified board level requirements using their target board. By deploying Aldec's DO-254/CTS in their verification flow, Elbit increased functional verification coverage by test and reduced the overall verification cycle. EASA supported Elbit's FPGA testing approach facilitated by Aldec's DO-254/CTS. This is the first time in Elbit's history that we have been able to bring more than 5 FPGA devices to the audit. Aldec helped us solve several of our verification challenges and delivered quick and professional responses for all our requests."
---
Aldec, Inc.
Corporate Headquarters
2260 Corporate Circle
Henderson, NV 89074 USA
Tel: +1 702 990 4400
Fax: +1 702 990 4414
https://www.aldec.com
©2022 Aldec, Inc.

---
Printed version of site: support.aldec.com/jp/company/testimonials/testimonial_elbit